---
Installed cobblestone projects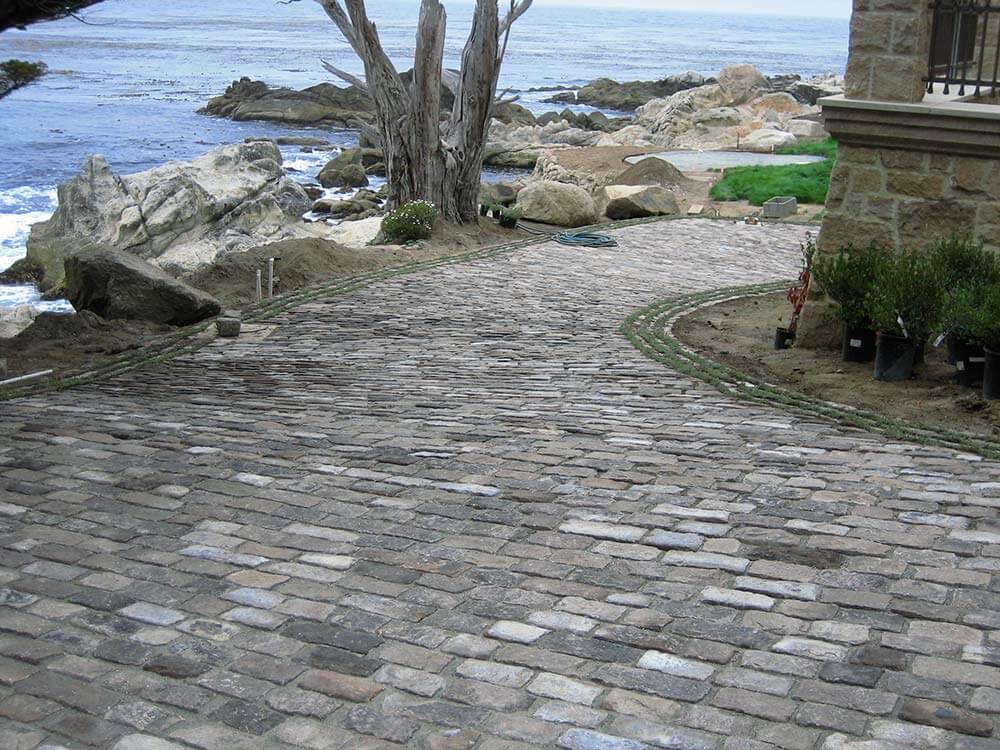 12,000 sq ft driveway utilizing old cobblestones from the streets of US ports. These cobblestones were used as ballast in sailing ships from Europe and then used for road construction. Worn smooth in most instances by horseshoes and steel wheels, these cobblestones are being recycled once again into prime real estate driveways and motor courts.
---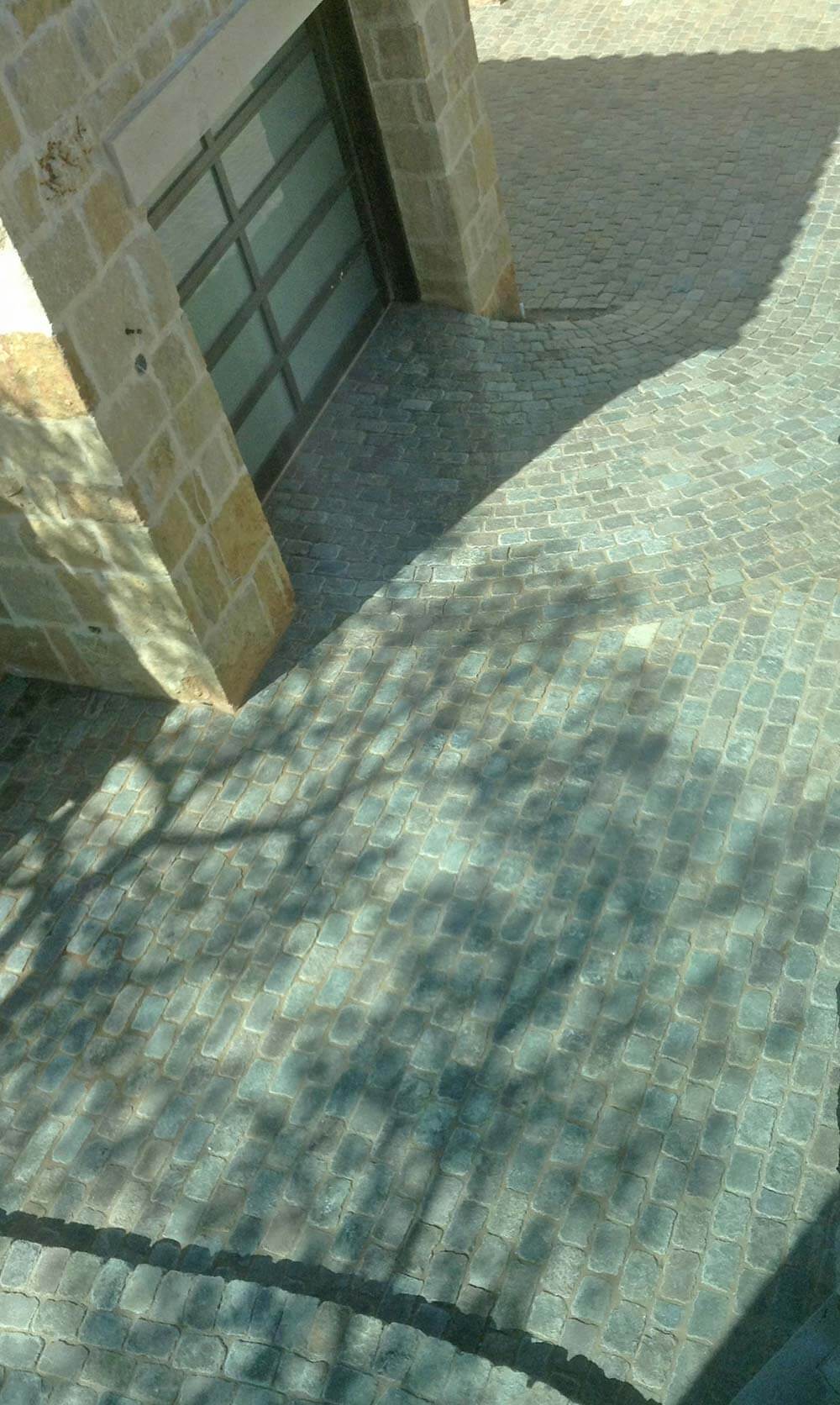 7,700 sq ft driveway using 200+ year old cobblestones from Europe. The Texas limestone facia seamlessly complimented the Grey Taupe and hint of Burgundy cobblestones. They were cut to 2.5-3″ thick for setting in a dry pack of sand and Portland cement (3-1 ratio).
---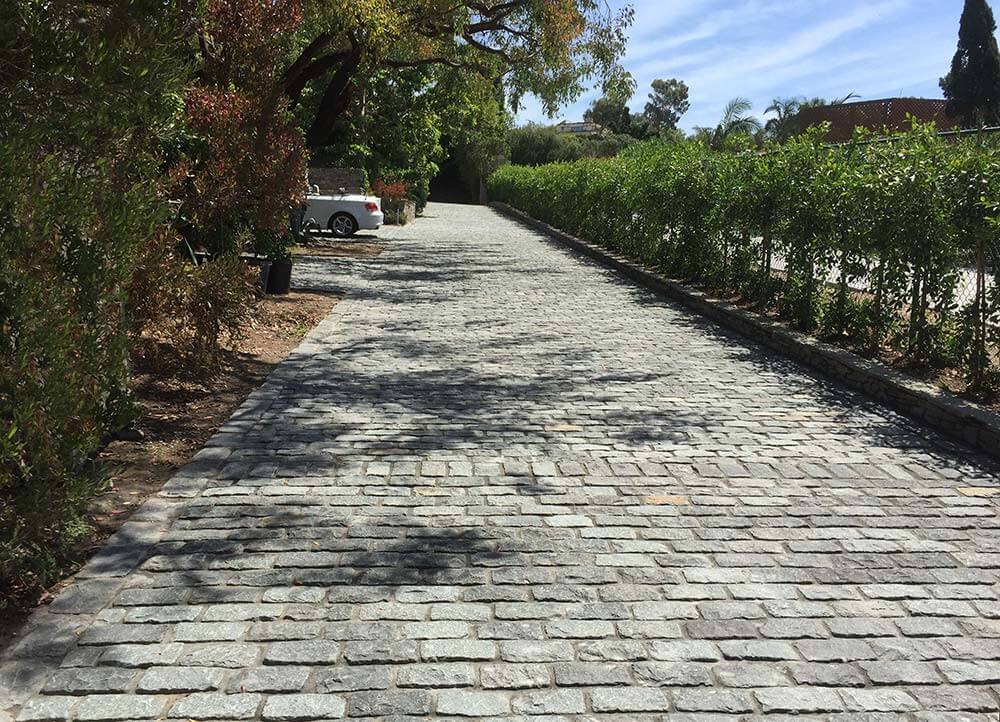 7,000 sq ft of 9x5x5″(+/-) Charcoal Black granite cobblestones/Belgium Block provides an immediate aged appearance to this long driveway leading to a motor court and garages. Cobblestones were set in dry sand with a 1/4″ locking aggregate between the joints and a polymeric sand top finish at the surface joint.
---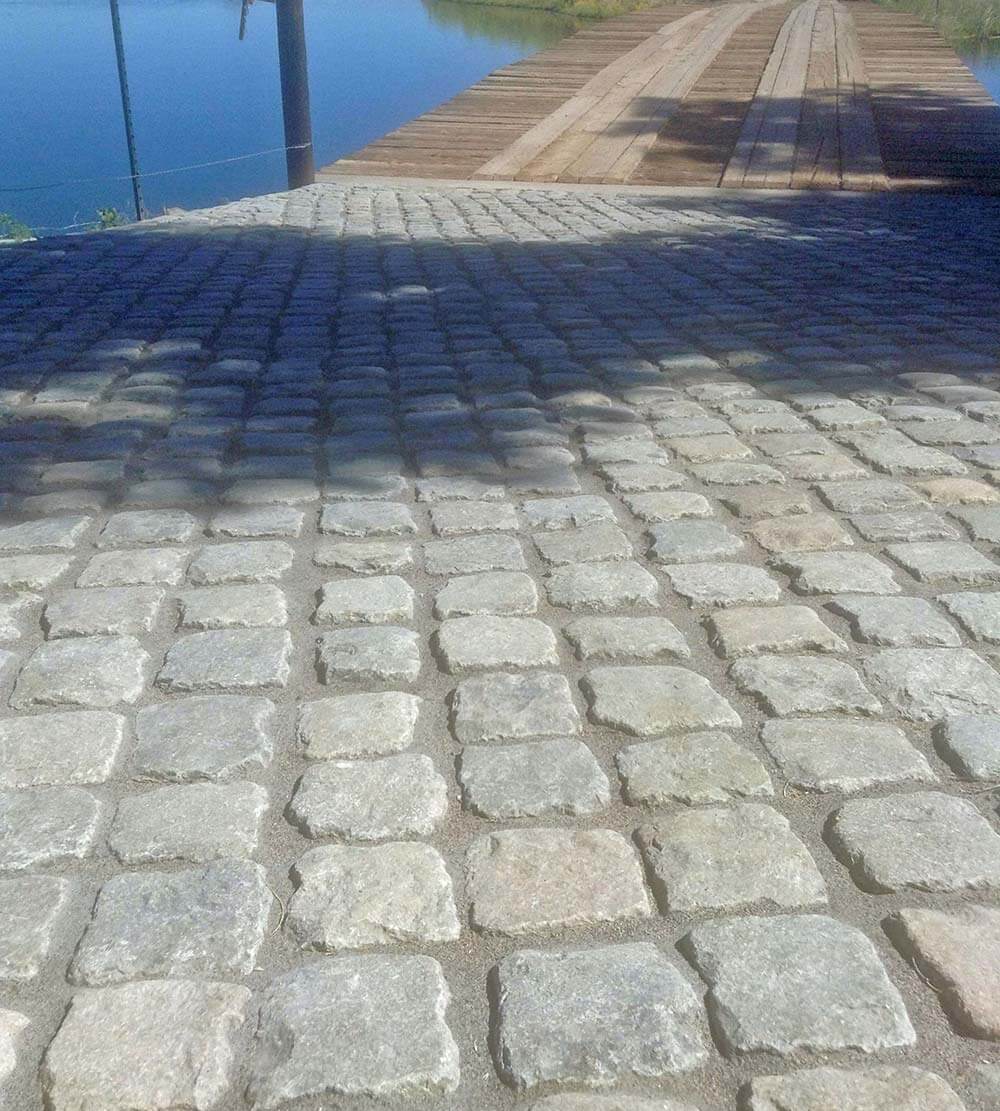 17,000 sq ft driveway of 5×5″ old European full depth 5-6″ cobblestones were Installed in a dry pack on a compacted sub base. Full depth cobblestones were used to combat winter freeze and thaw conditions. A 1/4" locking aggregate was applied between the cobblestone joints to a depth of 1-2″ from the top of the joint then completed with a Polymeric sand.
---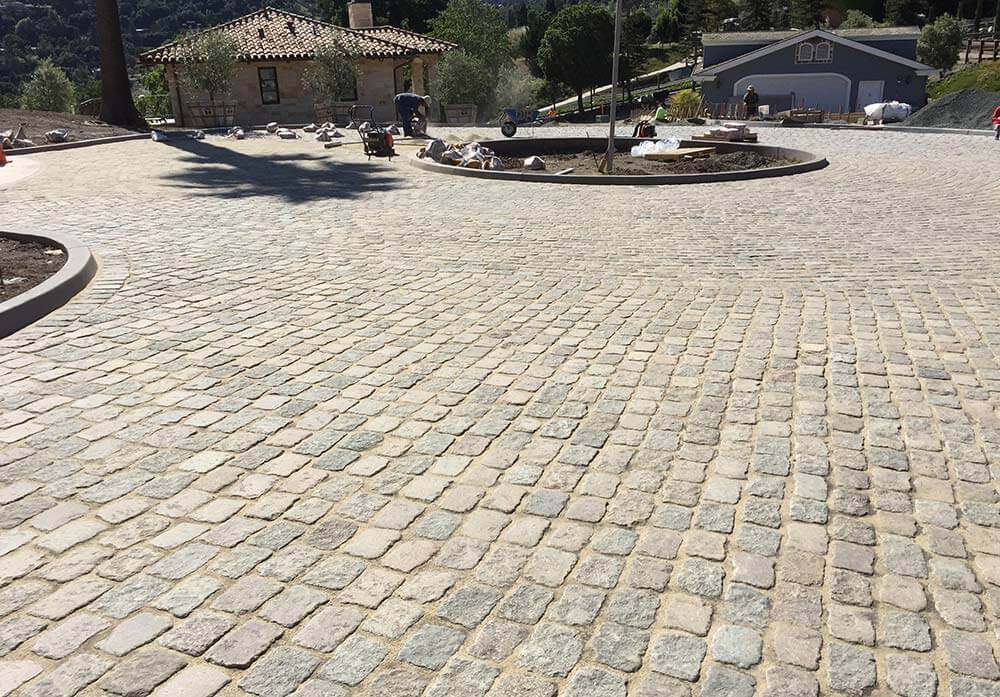 13,000 sq ft project of old cobblestones from Europe size 7-8″x5-6″ specially cut to 4″ thickness to meet the fire code requirements. Set in a dry pack of sand and Portland cement and then locked in with a 1/4″ aggregate before a polymeric joint fill was applied. 
---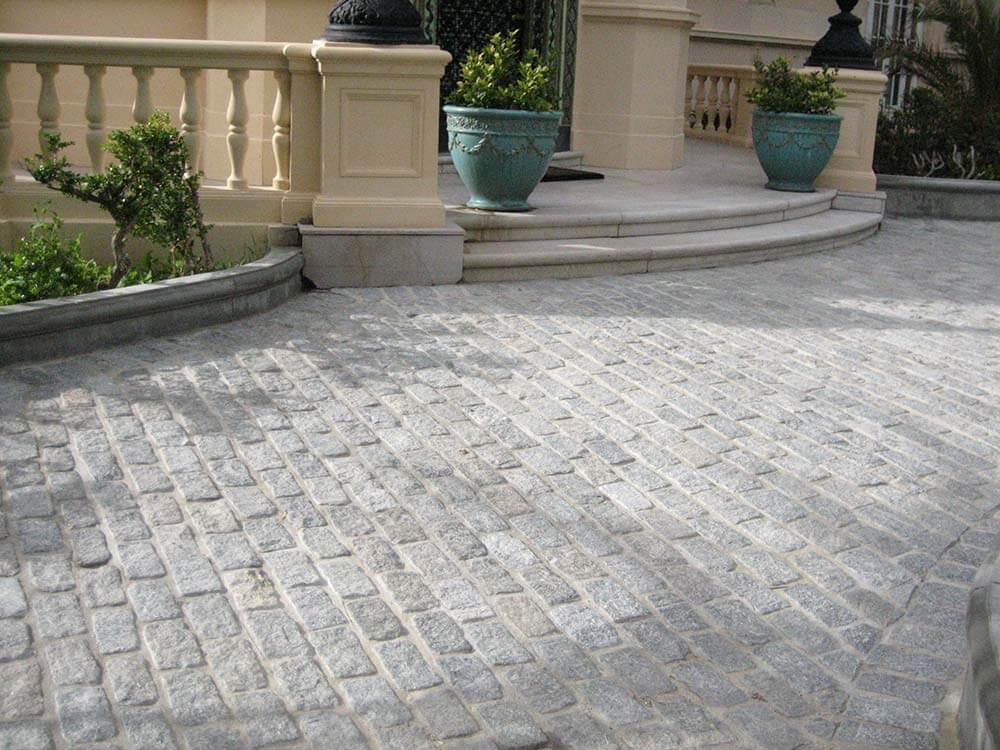 2,100 sq ft grey granite Belgium Block size 9x5x5″(+/-) The Villa De Leon overlooking the Pacific Coast Hwy, Los Angeles is often mistaken for the Getty Villa which is next door. This majestic villa built in 1929 is used for movie production and as a backdrop for custom advertising.
---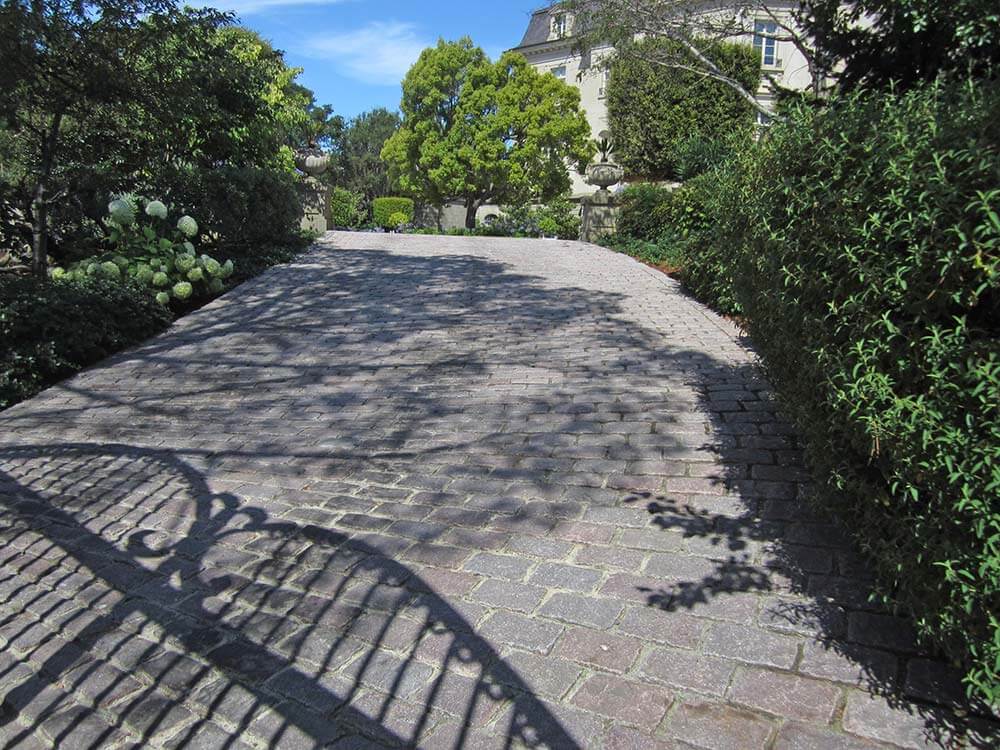 20,000 sq ft Grey Rose granite/Belgium Block size 9x5x5″ (+/-). Chateau Carolands has four driveways leading from two different roads in Hillsborough, CA that highlight these hand-cut cobblestones. The history of Chateau Carolands originally built by Harriet Pullman in 1910 -1914 was recently presented in a PBS documentary. A link to a 2-minute video is available from our Belgium Block web page.
---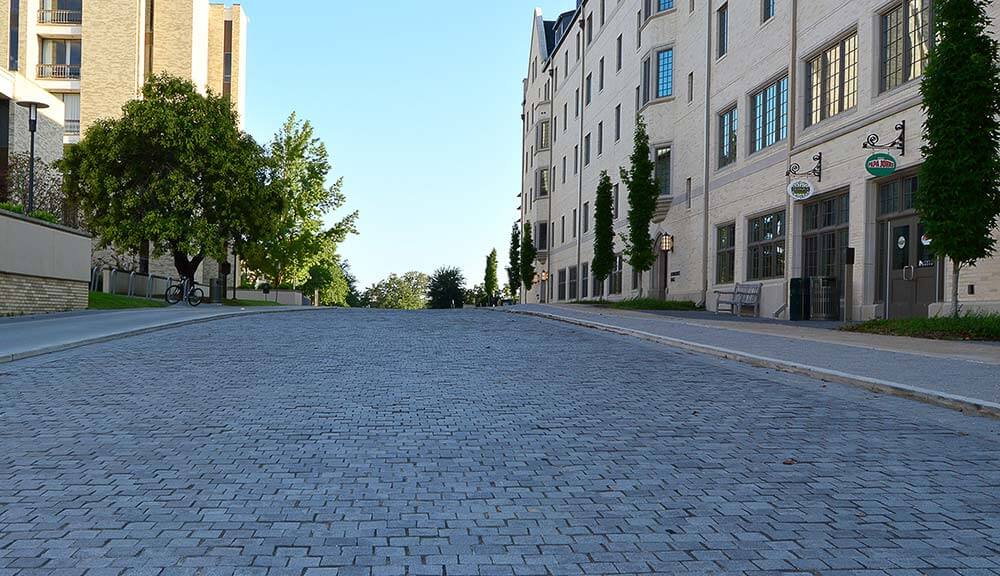 11,400 sq ft of flamed top surface 4x4x4″ Carbon Grey/Black cobblestones with a natural split edge for an old appearance. This installation in a public walkway complies with ADA requirements.
---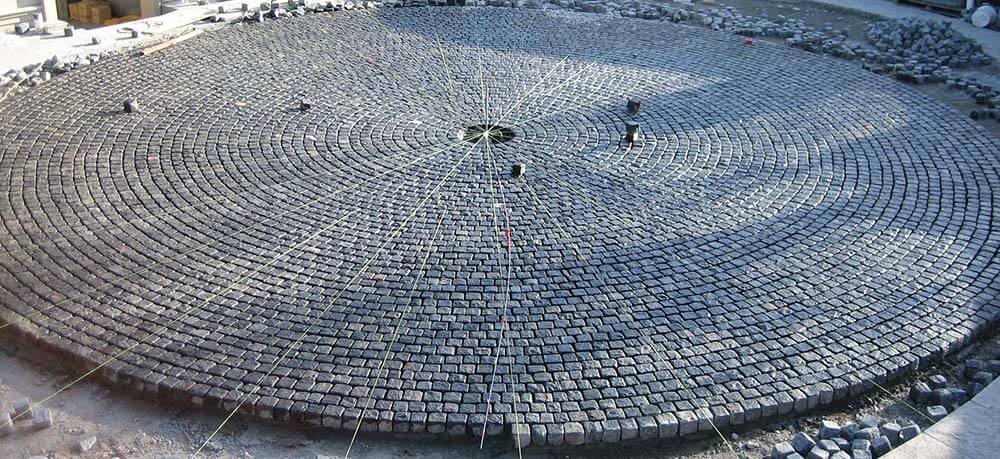 7,000 sq ft project of 4x4x4″ Charcoal Black granite cobblestones. Very typical of old streets you would see in London or Paris. Project at the time of the photograph was still being installed but note the meticulous installation by the installer by off setting every joint in the circle. It was set in a traditional wet mortar bed.
---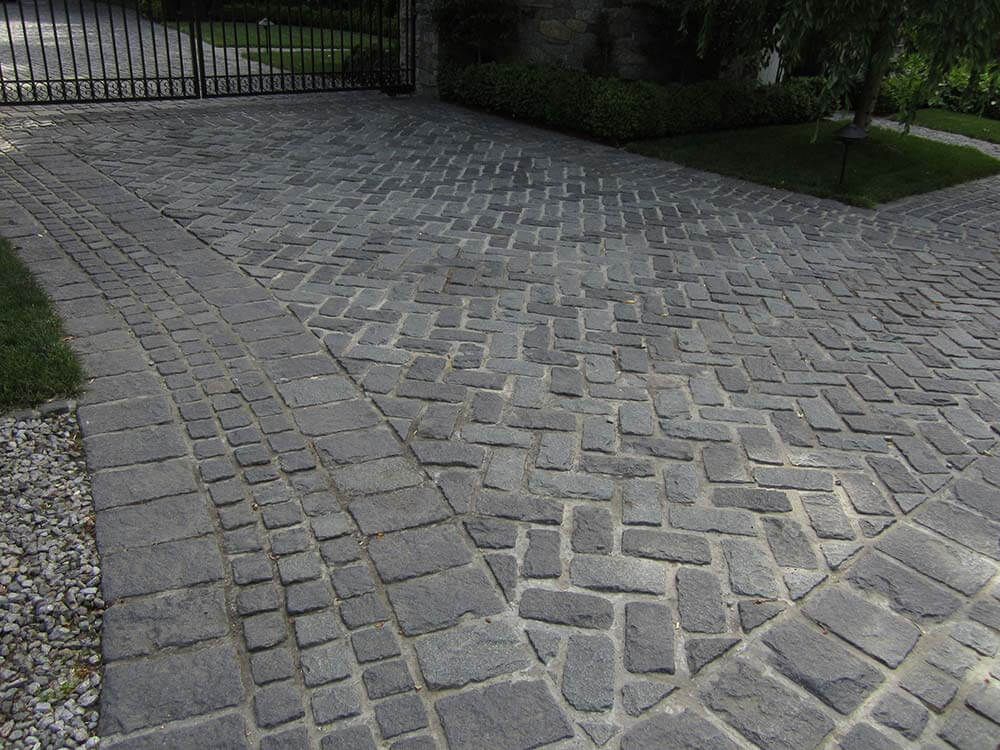 6,000 sq ft project of Charcoal Black 9x5x5″(+/-) granite cobblestone with herringbone pattern in the field area and bordered by matching Charcoal Black color in sizes 10x7x4″ and 4x4x4". The field area beyond the gate is 4x4x4″ and is highlighted around a compass insert that becomes a focal point at the driveway entrance.
---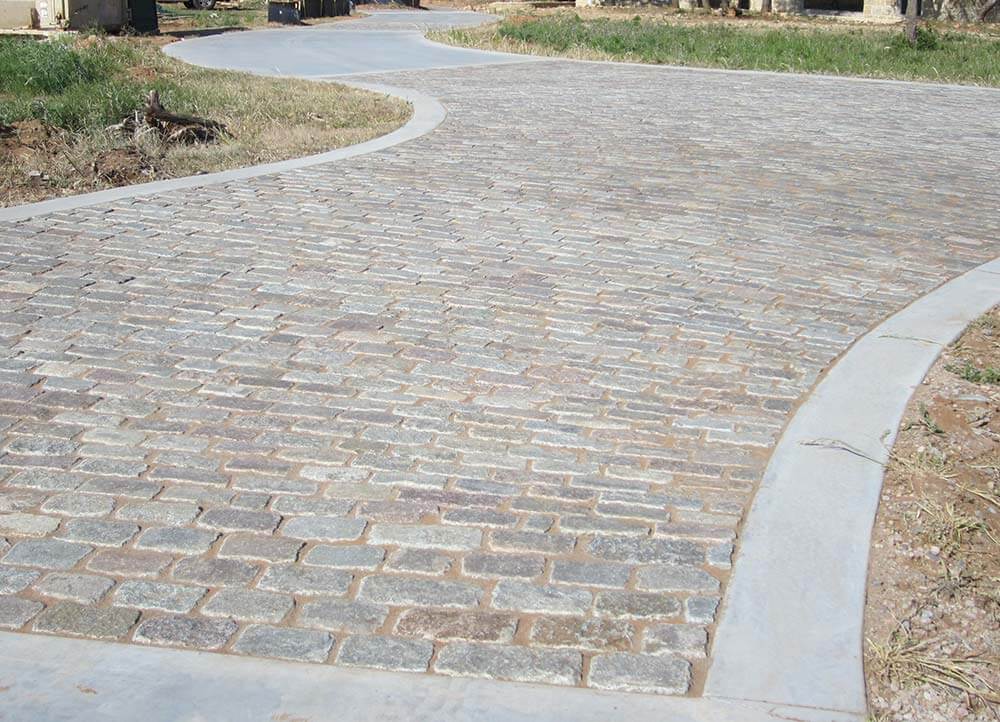 Long driveways can get expensive with total area coverage in granite cobblestones. Two possible design concepts are a pad area of cobblestones between an alternate material as show in this installation or a ladder concept using granite cobblestones as a column border edge with row links at intervals of 15 -20 ft that lead to a main motor court area. The open rectangles can be filled with a pea gravel or an alternate stone.
---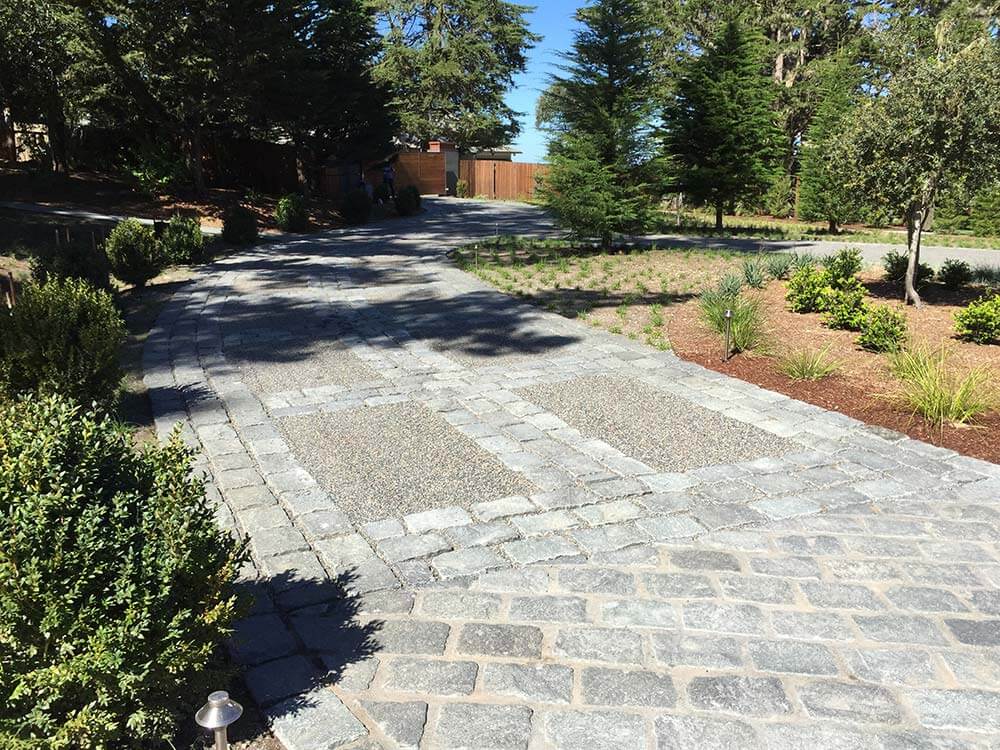 4,000 sq ft project of the 10x7x4″ Jumbo Belgium Block cobblestones set in a ladder formation originating from the entrance of the property and leading into a large motor court area. Here the concept was to create a gravel crunch effect when entering the property but keeping the gravel away from the front door entrance.
---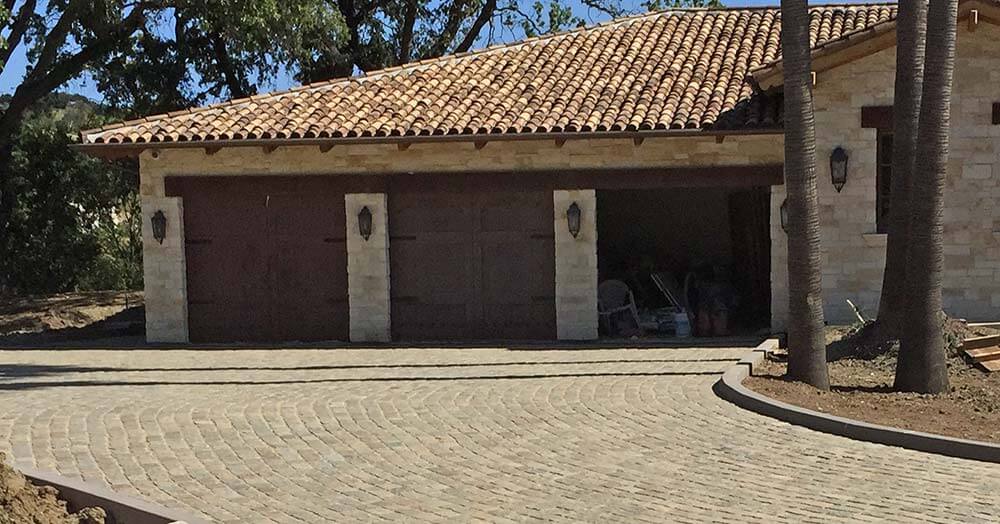 The facia, roof tiles, and garage doors of this newly constructed home worked well with the old cobblestones from the streets of Europe. The Grey Taupe cobblestone with a hint of Burgundy blended seamlessly in the overall design, and created that perfect harmony between new and old.
---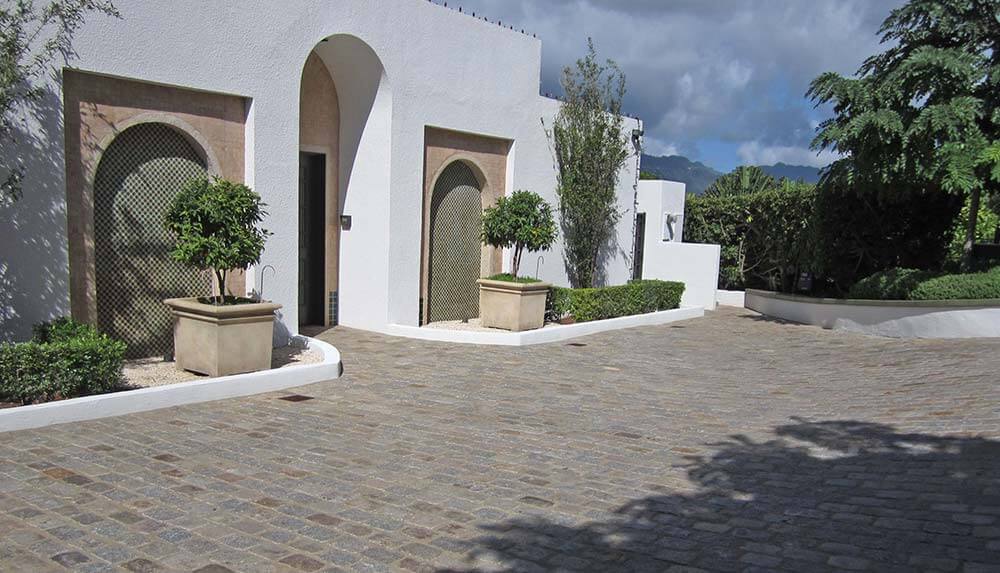 A further example of a modern home in harmony with old cobblestones from the streets of Europe. This installation in Hawaii of Grey Taupe with a hint of Burgundy cobblestones blended with the bright white exterior paint, new concrete curbs, and surrounding tropical vegetation.
---
---
---